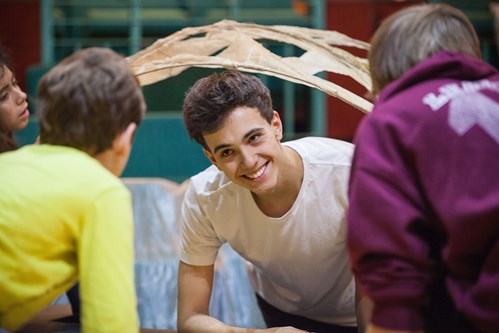 We couldn't do what we do without our amazing team of passionate and dedicated volunteers, and we're always on the look out for more fantastic people to join us!
Our volunteers are an integral part of our team, giving their time and enthusiasm to help us provide a great experience for our audiences. As a community focused charity, we encourage people from all walks of life to engage in the arts and get involved in our volunteering scheme. We are currently recruiting for new volunteers to join our Visitor Experience team.  
Volunteering at the Lawrence Batley Theatre not only helps our theatre to thrive, but is a great way to meet new people, develop new skills, gain experience and become part of our theatre community. We welcome people from all backgrounds and levels of experience to apply. 
"I volunteer because I love the theatre and I enjoy helping other people to love it too" 
"I have volunteered at the Lawrence Batley Theatre for many years and I absolutely love it."
"Lovely to work with the Lawrence Batley Theatre staff, the other volunteers and of course the public."
"Can't recommend being an LBT volunteer enough." 
Go to slide 0

Go to slide 1

Go to slide 2

Go to slide 3
We are currently recruiting volunteers to join us for our autumn season. If you'd like to find out more about volunteering at Lawrence Batley Theatre, you can download our volunteer pack below. 
If you're interested and would like to join our team of volunteers please email volunteers@thelbt.org