About Us
Resident Companies
We have two wonderful resident companies here at the Lawrence Batley Theatre.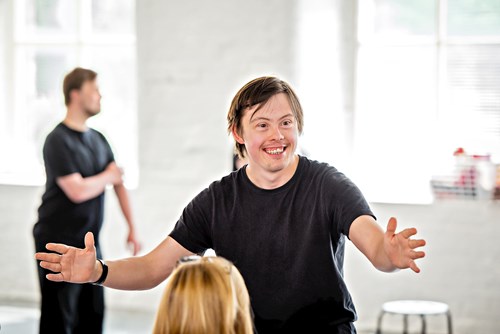 Dark Horse
Dark Horse is a theatre company that exists to create and find equal opportunities for people with learning disabilities to train and work in the performing arts. A leading vocational trainer of actors with a learning disability we offer courses validated by drama school ALRA (Academy of Live and Recorded Arts.)  
Dark Horse tours bold and entertaining new shows that change audience expectations, break down barriers and increase representation for talented learning disabled actors on stages and screens across the UK. Previous work includes #OutBreakOut (digital production 2021) #FutureLoading (digital production 2021), The Garden: Lockdown Edition (digital production 2020), Stir (2019), You Have Been Watching (2017) and Snakebite (2015.) 
Chol Theatre
We are Chol – where everything is possible. We bring live story making experiences to children and young people in their everyday local communities across Yorkshire and England. 
Chol is a charity, founded in 1995 dedicated to improving the lives of children and young people. Through our flagship participatory arts projects and initiatives such as Imaginary Communities and Equal Players we inspire creativity and explore real and imagined stories, to create theatre and art that is accessible to everybody.
We specialise in co-creating art in everyday community and educational spaces with children and young people from early years to early career. Our practice increases artistic skills, literacy and confidence, enabling participants from all backgrounds to feel powerful and connected. Our primary focus is to bring theatre and arts into the heart of  local communities, inspiring creativity and making art accessible for everyone.