About Us
Our History
Our beautiful building has had plenty of history within the walls of its 200+ year life and continues to grow.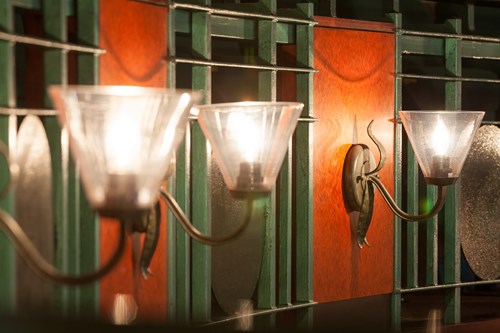 1819 
Opening as a Wesleyan Mission at a cost of £8000, the church had seats for 1,862 people and, at the time of building, was the largest Methodist chapel in the world. The builder of our now Grade II* listed building was Joseph Kaye who was also responsible for Huddersfield Railway Station.
1847
During the golden years of the church, the Rev. George Browne MacDonald and his family arrived as Superintendent Minister. Two of his daughters became the respective mothers of Jungle Book author, Rudyard Kipling, and a British Prime Minister, Stanley Baldwin. A plaque commemorating their family can be still be seen today in our bar.
1970s
Over the years, attendance declined and maintenance costs rose, resulting in the building closing as a Mission. 
The council began an arts centre while discussions were made to decide on the need for a permanent arts space for Huddersfield. This was however short-lived and closed in 1975 due to structural faults. The building was then renovated and converted into a squash club (!). However, the business didn't survive and closed three years later.
1980
Kirklees Theatre Trust is set up with the aim of creating specific facilities for professional and amateur performance in Kirklees.
1992
Following many years of planning and fundraising, conversion into a theatre began taking 220,000 hours and £5.3 million to complete.
1994
The theatre is opened officially 11 September 1994, with Sir Patrick Stewart cutting the ribbon and Dame Judi Dench laying our foundation stone who commented "I long to do a play there someday". 
On 15 September, the very first Comedy Club took place with Jeremy Hardy and has continued to run in our Cellar Theatre.
Our long-running amateur companies are always an audience favourite. The very first performances took place in October 1994, the Huddersfield Thespians with When We Are Married and Longwood Amateur Operatic Society with Pirates of Penzance. 
1996
The theatre is awarded £1.05 million of Lottery money allowing us to redevelop the North Wing over the coming years, including the creation of our Attic rehearsal studio and offices which opened in 1998. 
2016
Our very first in-house produced pantomime, Cinderella, takes place. They have since become a Huddersfield staple (oh yes they have!). 
2020
March 2020 sees businesses worldwide, including theatres, close down as a result of coronavirus. We teamed up with theatres across the UK to produce digital theatre, enjoyed by viewers in over 70+ countries worldwide, including What A Carve Up!, The Picture of Dorian Gray, and The Understudy.
2021
The capital redevelopment project, A Theatre For Tomorrow, sees the renovation of key spaces within the theatre, allowing for greater accessibility and sustainability. Find out more about the campaign here.